As organizations look for ways to improve efficiency, reduce costs, grow revenue and accelerate the delivery of their unique value to their customers, they often outsource business processes and functions to the cloud.

Moving to the cloud also means putting parts of your value chain into the hands of a vendor and, by extension, that vendor's vendors. This exposes your organization to all of the risks that exist within those third-, fourth- and nth-party organizations. As a matter of good governance, any organization that operates in the digital world needs a way to understand the risks involved and a way to manage them.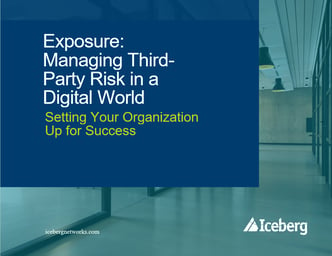 About Iceberg Networks
Iceberg Networks plans, deploys and manages successful programs for Integrated Risk Management (IRM). By providing trusted, aggregated and transparent risk intelligent information, Iceberg enables both private and public sector organizations the ability make more effective business decisions.

Icebergs' team of experienced management consultants, subject matter experts and software developers offer a full lifecycle of IRM related professional services including, executive management workshops, strategy sessions, implementation & integration and support services.